Sand Hotel, Reykjavik makes the switch to Hamilton's decorative wiring accessories in their stunning refurbishment
Situated in downtown Reykjavik, just off the main drag, Sand Hotel sits right in the heart of the Icelandic capital's cultural action – a perfect location for guests to enjoy the social, arts and cultural highlights of the city and the natural wonders beyond.
Tucked behind one of the city's oldest and most cherished institutions – Sandholt Bakery – a family run artisan baker since 1920, and sharing the site of Guðsteinn Eyjólfsson's Gentlemans' Store, Sand Hotel ranks perfection as its ultimate priority.
The Project: With this relentless drive for excellence, in synergy with its historic neighbours and with the ambition to remain at the forefront of Reykjavik's hospitality offering, a renovation of the hotel was undertaken. And Hamilton Litestat was selected as the decorative wiring accessories supplier of choice.
The vision of the project's interior designer and architect, Gudbjorg Magnusdottir, was to create the perfect combination of architectural history, culture and contemporary design flair. Drawing on the building's 1920's heritage, the designs evoked a subtle Art Deco quality, with faultless attention to detail throughout.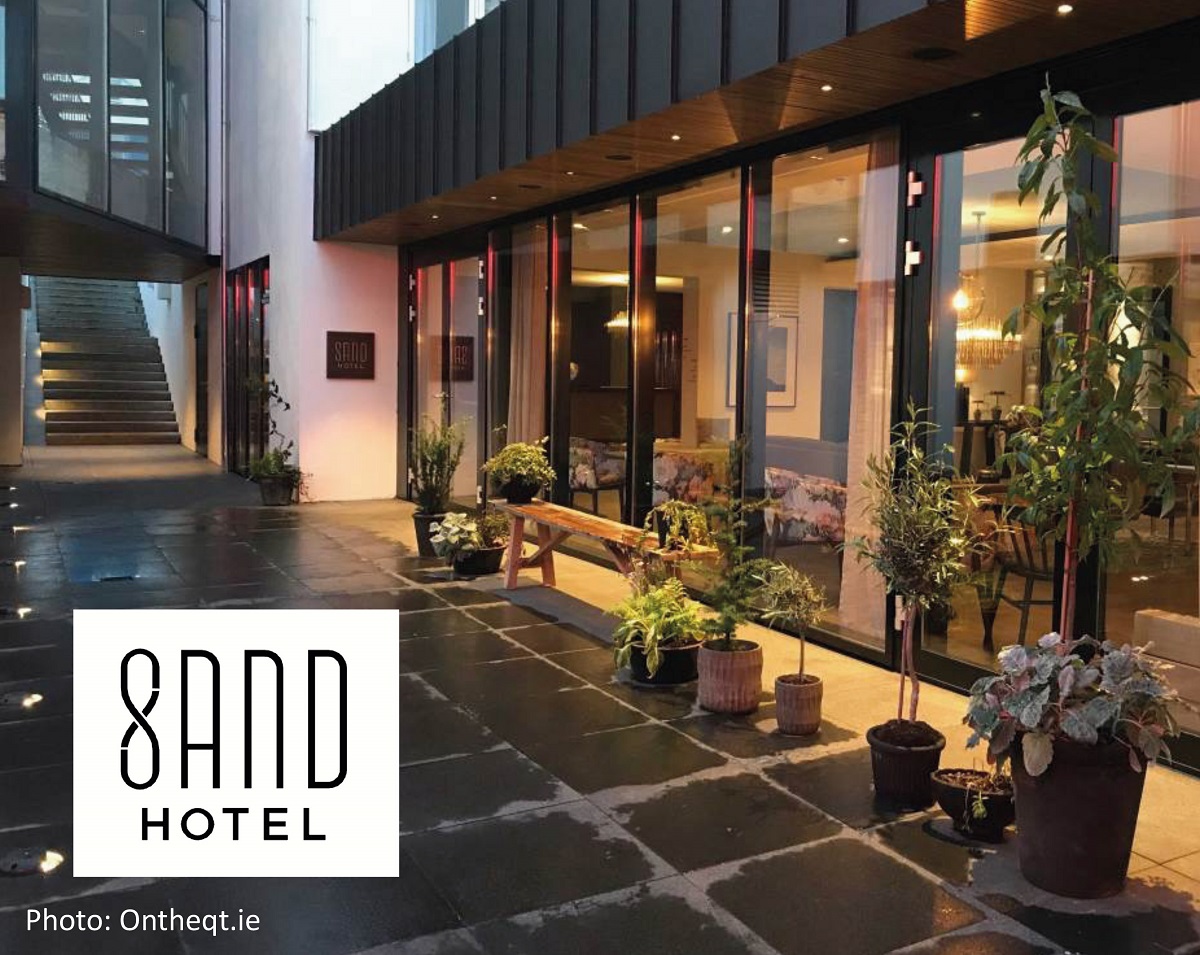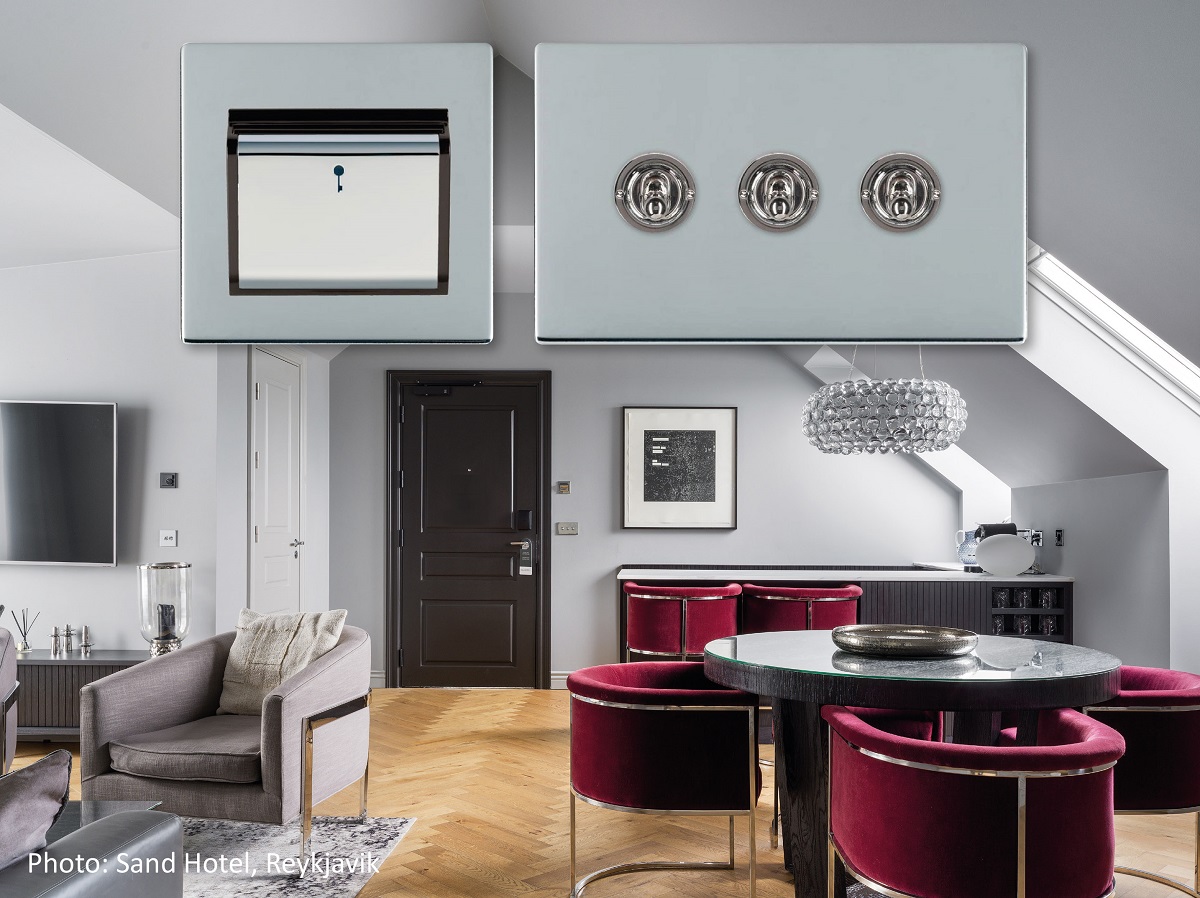 From the beautiful oak floors to the stunning marble bathrooms, stylish furniture and contemporary artworks adorning the walls – it was imperative for the electrical wiring accessories to align with this vision.
The Solution: With 53 guest rooms and suites and a number of communal spaces including the hotel's reception and bar areas to complete, a discrete yet stylish solution was required.
Selected for its flat, elegant design with firm edges and concealed fixings, Hamilton's Sheer CFX plate collection was chosen as the basis for all plates – with a number of custom-made solutions as well as standard plate formats throughout the hotel.
All plates were finished in Bright Chrome with black inserts to complement the interior theme.
Toggles add a touch of elegance
With the Sheer CFX plate delivering an almost flush-to-wall appearance and with a nod to the Art Deco theme, lighting control throughout the hotel is via Hamilton's standard (T21) 2 way on/off toggle switches, with a mixture of 1, 2 and 3-gang plates used throughout.
Simple dimming is achieved through a push-to-make (PTM) (TRT) retractable toggle switch, providing the user with enhanced control when it comes to scene setting and mood lighting.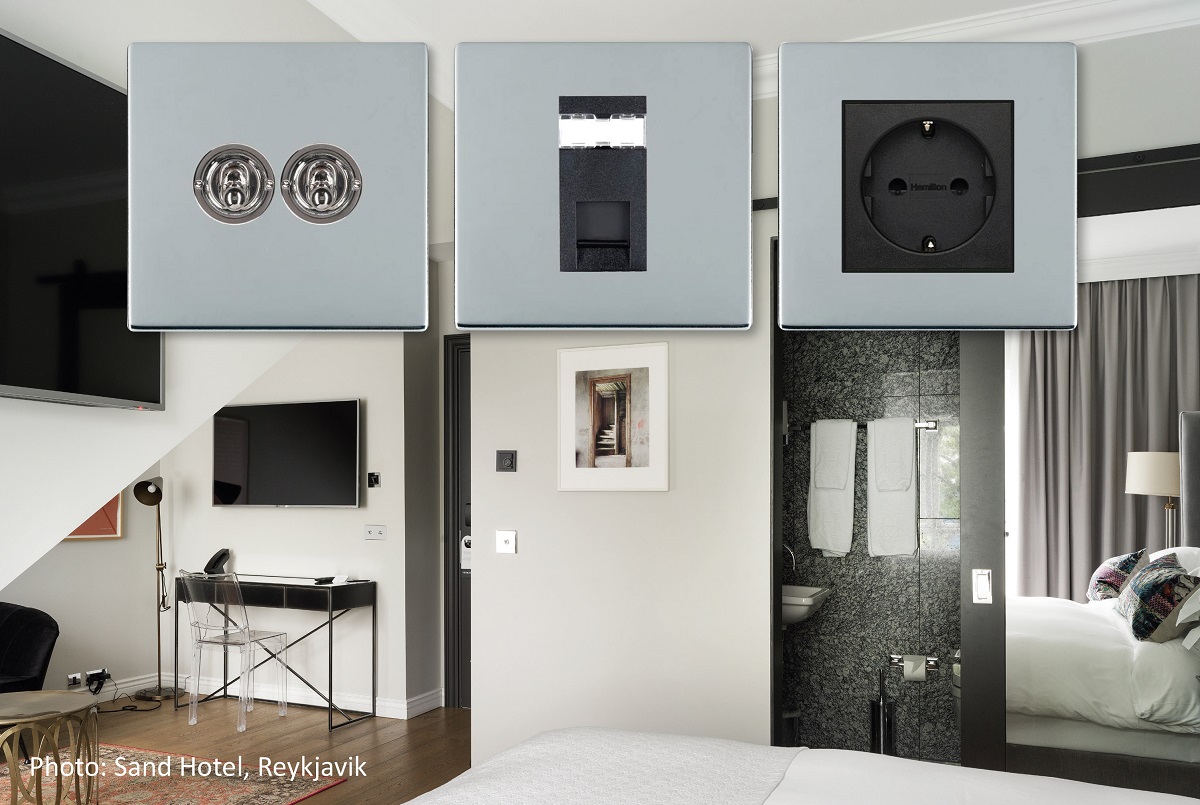 Key services delivered by conventional plates
Providing the high standard of service and reassurance demanded by the contemporary traveller was a prerequisite of the refurbishment of Sand Hotel's electrical service provision and so a number of conventional plates were selected to deliver stylish solutions in-keeping with the interior scheme.
These included:
Bespoke design brings symmetry and enhanced user experience to bed-side lighting control
With the desire for personal lighting control and the charging of USB devices from each side of the bed, each room required a left and right-handed custom-made plate.
A double plate containing a standard On/Off T21 toggle switch plus a PTM (TRT) retractive toggle for bedside dimming, and dual 2.1A USB-A charging ports was developed, again with the Sheer CFX as the basis for its design.
The Results: Working closely with EMEA Sales Manager, Albert Valdes in Barcelona, Hamilton delivered some 2,500 wiring accessories, including light switches, electrical sockets, telephone and data sockets and key card entry switches throughout the hotel renovation.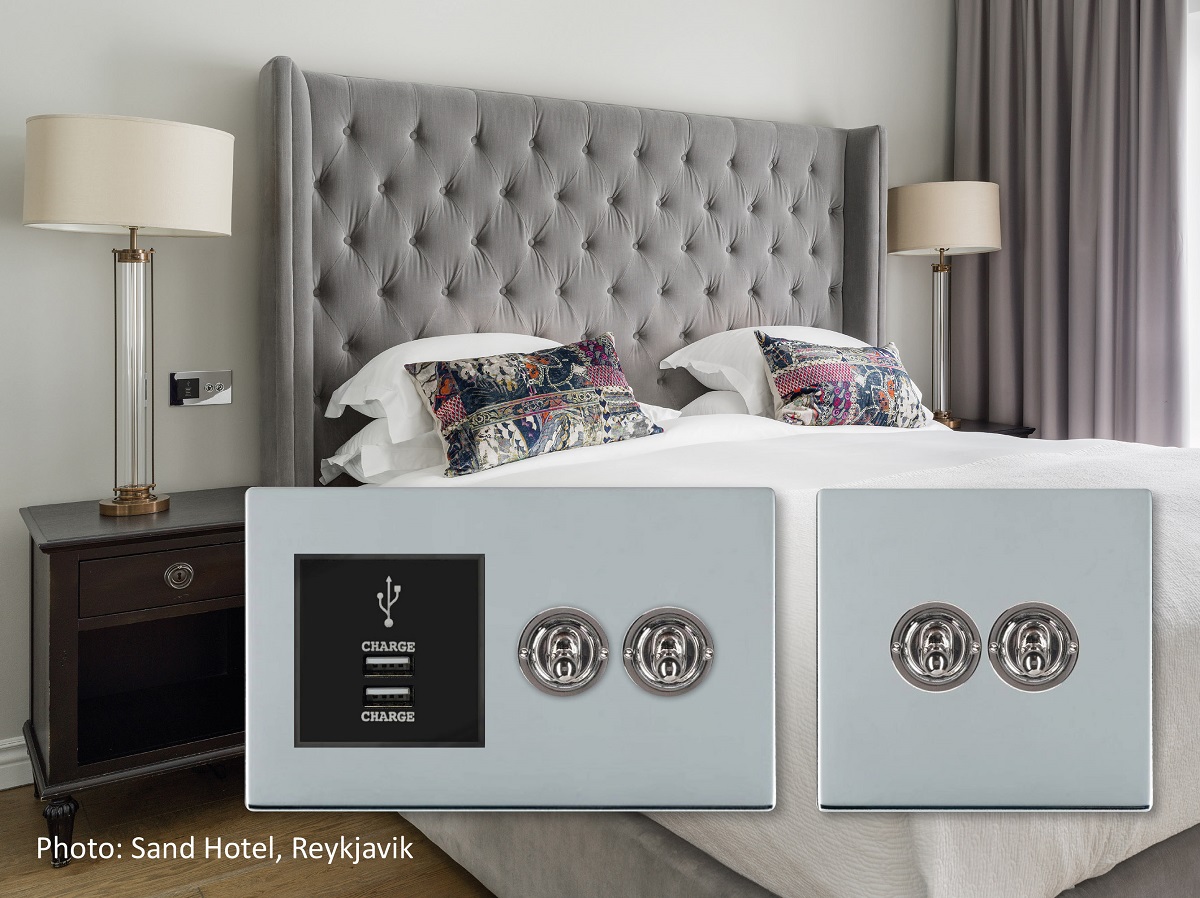 Halla Haraldsdóttir, Marketing Manager, Keahotel EHF group says; "The quality and finish of Hamilton Litestat's decorative wiring accessories throughout Sand Hotel has truly exceeded our expectations. The expertise and attention-to-detail with which the custom-made plates were developed and standard plates were implemented have totally aligned with our vision."