Which type of USB charging socket should you fit for faster charging?
The demand for faster charging of devices has led us to new USB standards, and with it an increased requirement for fitting sockets with USB charging capabilities. However, popularity is now set to rocket because of changing EU regulations. In a move to reduce electrical waste, battery-powered devices will no longer include a standard white block plug-in charger.
Gavin Williams, Sales and Marketing Director at Hamilton, discusses what this means for the contractor, and how 13A USB charging sockets and Euro Module charging solutions can keep contractors and their customers ahead of the curve.
We all have those drawers full of odds and ends, and one item that's sure to have a home there is the block plug-in USB charger. Until now, they've come as standard with battery devices that need charging, so in fact most people normally have a lot more than one laying around. Eventually, when the drawer gets full, they end up as e-waste.
In a move to reduce the environmental impact the European Union is trying to stop supply and move towards a standard USB-type charging connector. One of the first brands to make this change is Apple, which won't be providing a charging unit with the recently revealed iPhone 12.
But what does this mean for consumers and installers? An increased demand for USB charging ports is anticipated, both for commercial and residential properties. But not all USB connectors were created equal – there are both USB Type A and USB Type C ports. But what's the difference?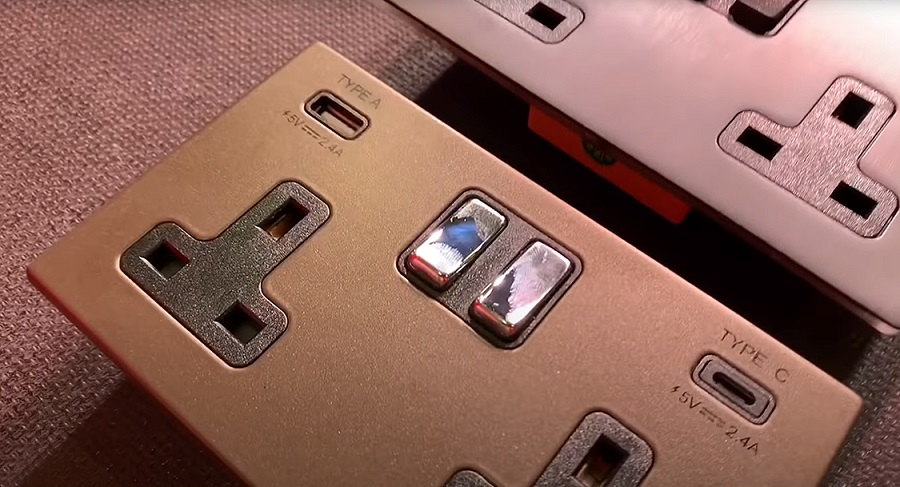 Recap: USB-A vs USB-C...
Most electronic devices such as laptops and computers will have a USB Type A port, or USB-A. This has a reasonably large physical connector that can only be inserted into a port in one orientation, and requires a USB 2.0 connection for 2.5W charging.
However, a new standard that enables significantly faster charging is on the horizon – the USB Type C, or USB-C, which has the same connector pins on either side, so can be inserted into a charging point either way up and is physically smaller than USB-A.
More importantly, it supports new USB standards: USB 3.1 facilitates extremely fast data transfer of up to 10 Gbps, while USB PD enables bidirectional power transfer of 100W for rapid charging. More than 700 technology companies have now adopted the USB-C standard, including Apple, Dell, Google, HP, Intel, Microsoft, and Samsung.
Charging ahead...
To support the next wave in technological development and still charge legacy devices, companies manufacturing electrical wiring accessories, such as Hamilton, are producing sockets with combined USB-A and USB-C charging ports. Available in four plate designs: Hartland, Hartland G2, Hartland CFX and Sheer CFX, these solutions provide a business opportunity for today's electrician to stay ahead of demand. Hamilton's USB ports are clearly labelled with the rated current or rated power values, as per BS EN 62368 Annex F (Markings), and tests have shown that there is no power sharing between sockets.
However, faster charging needs more power, more rapidly. To enable this, a larger charging module is required on the back on the socket, which is not possible due to the unit needing to be packaged within the restrictions of the standard 47mm deep back box. But as USB-C becomes standard, USB-A ports will become redundant and this will free up space in the unit for larger charging modules.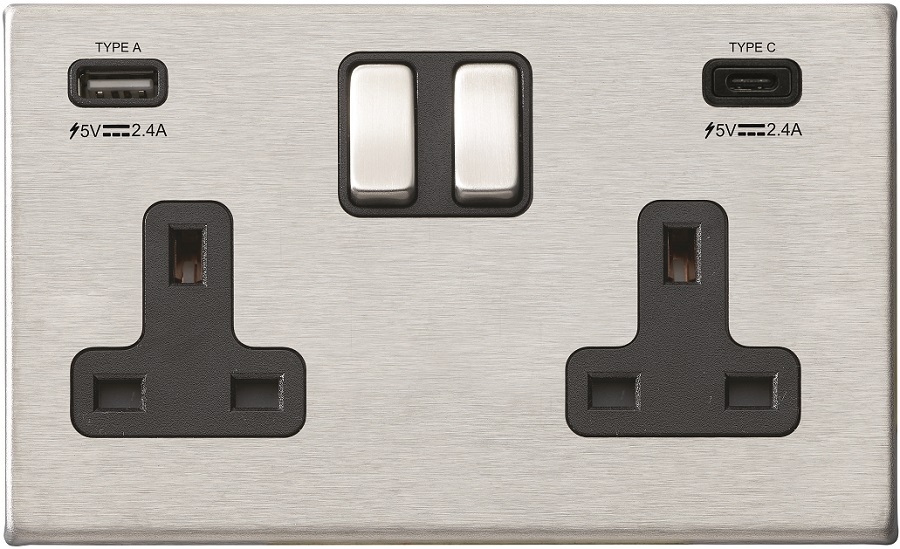 Power up...
In the meantime, it's possible to install a Euro Module that will deliver a higher rate of charge. Hamilton has launched a 45W Type C / 18W Type A Euro Module that delivers additional power to support higher capacity/power thirsty devices.
When a device is plugged into the Euro Module it will negotiate the power output. For example, a device with USB-C (labelled PD – Power Delivery) will either accept the full 45 watts on offer or will advise the charger to adjust the current and voltage to enable optimum charging. The same applies to the 18W Type A socket (labelled QC – Quick Charge).
The MacBook Pro and iPad Pro are examples of devices that do not charge appropriately from a USB-C port in a standard 13A socket and require a Euro Module to charge effectively.
For installers looking to offer future-proof wiring accessories to their clients, Hamilton's USB charging products provide transitional solutions. Its sockets with both USB-A and USB-C ports provide charging to new and legacy devices, while the Euro Module delivers the additional current and voltage required of more power-thirsty devices. With devices determining the charge accepted, the power delivered by these ports will automatically increase as the device's capability improves, ensuring consumers are set for the next charging standard. Ask for more information at your local stockist.