Make do and refurbish...an increase in retrofit and refurbishment projects is providing wholesalers with a boost in sales opportunities.
If we could have warned our 2019 selves what to expect in 2020, it is unlikely that any of us would have genuinely believed what was to come. Following major disruption in every sector, government restrictions are easing into a 'new normal'. And this 'new normal' is currently offering some unique sales opportunities for wholesalers.
"We've been very lucky to continue operating and supporting our customers during these extremely challenging times," says Gavin Williams, Sales & Marketing Director at Hamilton.
"With much of our manufacturing taking place at our headquarters in Bristol, we are agile in our operations and were able to make quick changes to operate safely and carry on our supply and distribution of products. This has been fortunate as we've seen an increase in retrofit and refurbishment products that have positively impacted demand."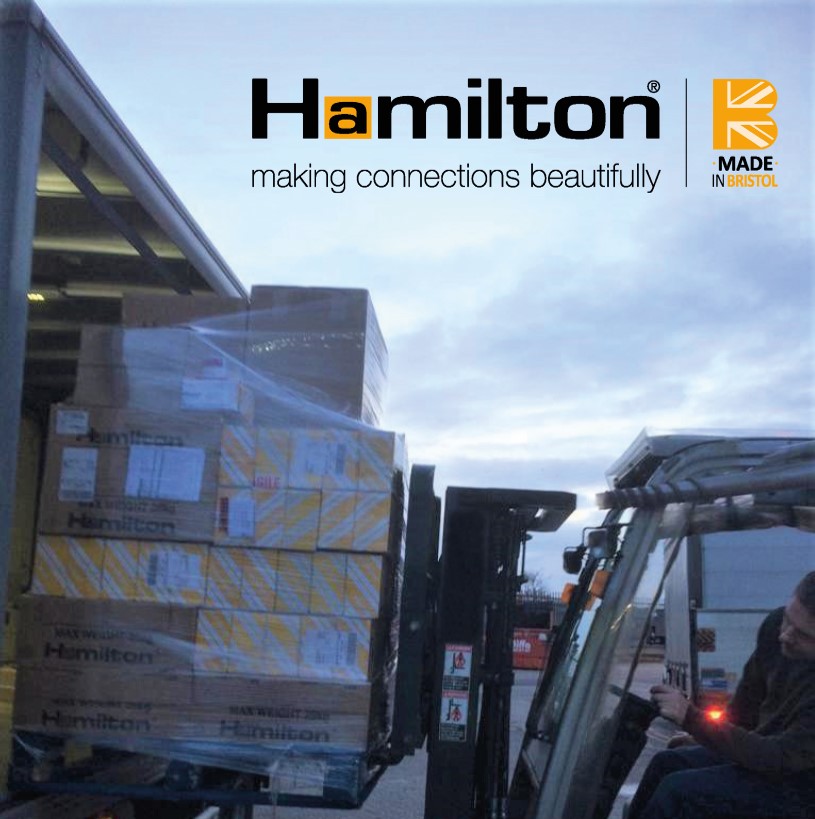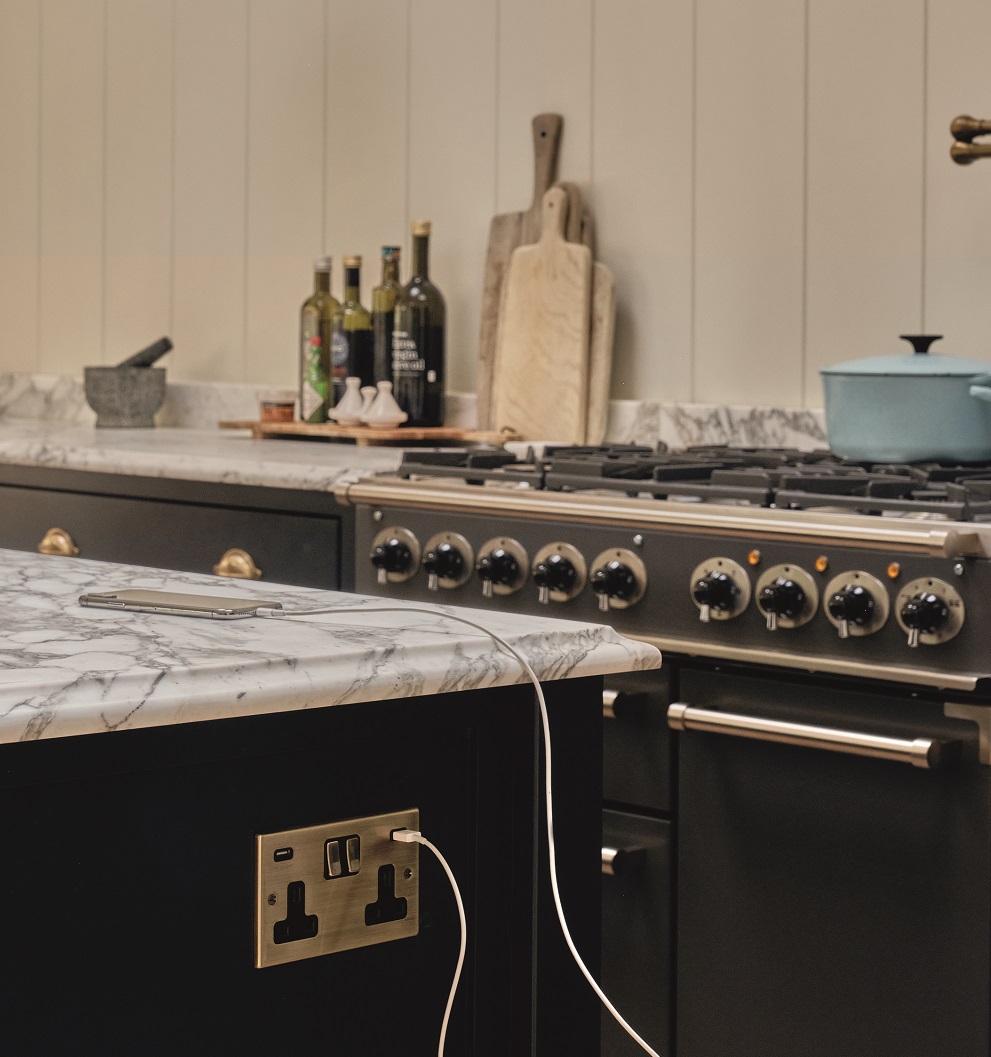 A refresh can make a huge impact...
With interest rates low and many choosing to holiday at home, there has been a boost in both residential and commercial retrofits and refurbishments. People have been spending more time at home, realising how their space could serve them and their families better with the help of extensions, loft conversions and the refurbishment of kitchens and other areas. Working from home is no longer unusual and is set to become commonplace for many, so reconfiguring spaces to allow for this has also been high on people's agenda.
Commercially, the hospitality sector is renovating guestrooms and restaurants, and private owners are upgrading rental properties that are advertised on sites such as Airbnb in order to capitalise on the increase in UK holiday bookings. While times are still challenging, there is an opportunity for wholesalers to push simple changes that can make a big difference.
A refresh can make a huge impact – in the home or in guest rooms – and can be a simple quick win. A lick of emulsion and replacing tired looking or dated wiring accessories with new decorative ones can give an instant facelift," explains Gavin. "As a result, Hamilton has experienced increased demand for our popular Hartland range."
Design at the Hart-land...
Hamilton's Hartland range has long been a favourite of installers due to it being easy to fit in all its configurations. But it's also a favourite with interior designers too for its minimalist, sleek and stylish design. It is available in different options to cover all project requirements, including the standard Box Fix design, while the Hartland CFX option has concealed fixings for a sleek, streamline finish without visible screws. Both are available in 13 finishes, including the on-trend and sought-after Matt Black, and popular Brass and Bronze finishes. And if a customer is seeking a punchier finish, Hartland Colours CFX comes in a robust plastic with Red, Black and White plate finish options. It delivers the same sleek look but at a lower price to the metal options.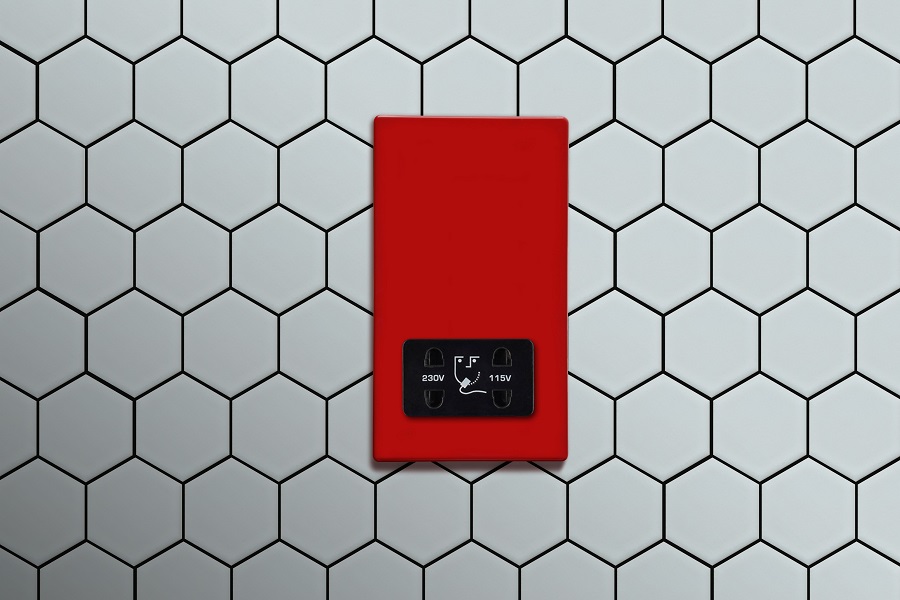 Same look, more cost-efficient...
The Hartland range has proven so popular that Hamilton has value-engineered the design to help support clients that want to make their budget work harder. The company has developed the Hartland G2 screwless 'Push-To-Fit' plate. The plate is produced from pressed metal rather than cast, with this manufacturing method contributing to an overall cost saving without compromising on either the quality or finish, so it delivers a screwless look at a box-fix price.
Once the back plate is wired, the front plate can be easily removed for walls to be repainted or papered, then the plate simply pushes back into position. It's therefore a great option for areas of the home or hotel that get a high level of use and need regular refreshes, such as entrance halls or corridors.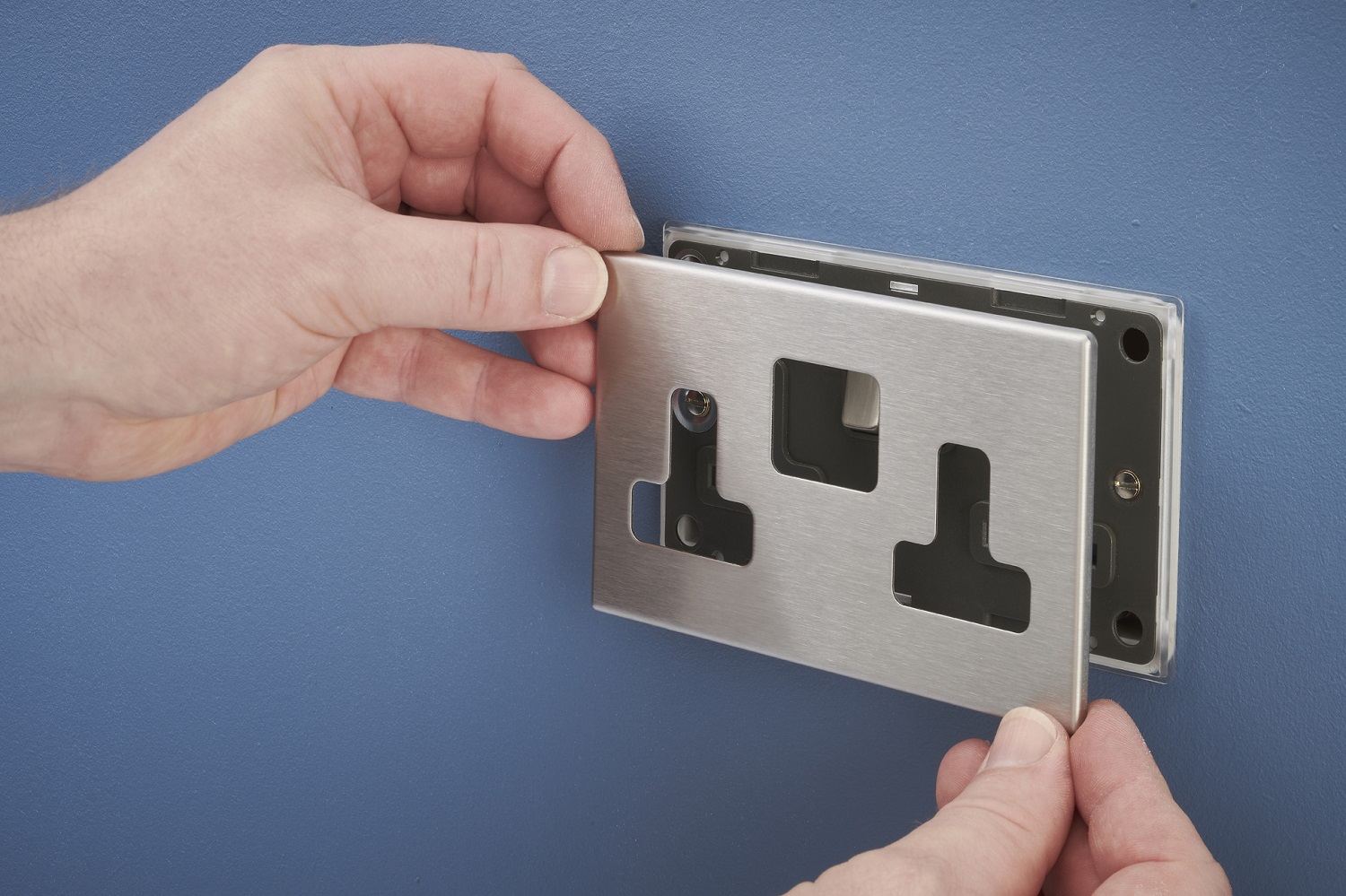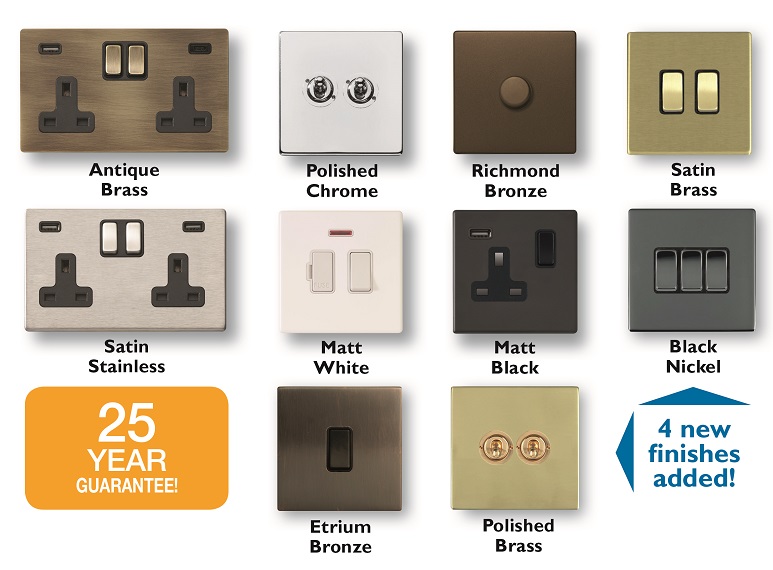 It is available in 10 on-trend finishes, including metallics Polished Brass, Satin Brass and Etrium Bronze, along with Matt White and Matt Black that have seen a recent boost in popularity. Inserts are available in White, Black and New Quartz Grey.
In terms of functionality, a grid option is also available with pre-engraved 20A double pole switches, EuroFix options, plus double sockets also equipped with two 2.4A USB outlets as standard, plus 4.8A Type A & C output connectors for charging phones and tablets. The back of the socket is coloured Bright Yellow making it extremely easy for contractors to see colour coded terminals.
If the Hartland design doesn't quite suit the look and feel your customer is after, Hamilton has a vast range of design options. Making a big design impact currently is the recently introduced Wide Rocker Switches. A design trend that has been influenced by the Asian market, these extra wide switches are in demand for both residential and high-end hotel projects. The switches are available across five Linea CFX collections – Duo CFX, Georgian CFX, Perlina CFX, Rondo CFX and Scala CFX – as well as Hartland CFX and Sheer CFX.
Available in 12 metallic finishes, including popular Bronzes and Brasses, as well as Gloss White, the Wide Rocker Switch wiring accessories cater for all interior design schemes as well as configuration requirements, including 1, 2 and 3-gang switches, 1-gang Push-To-Make (PTM), Double Pole and Intermediate Wide Rockers.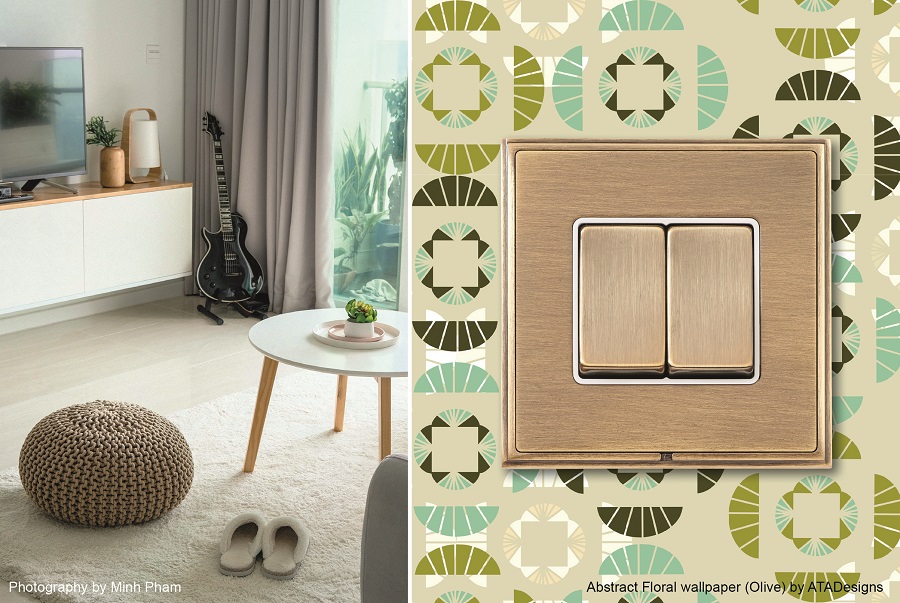 While a design refresh may work for some properties, others will need a more extensive makeover. "For those that need more space, or to comprehensively reconfigure rooms, a full refurbishment may be on the cards," says Williams. "This provides a fantastic opportunity to really think about the space, how it could be better used and what functionality is required. Step back and think about where the wiring accessories are placed, if USB ports would be beneficial for charging devices, if dimming rather than simple on/off switches would support the better use of the space. There are much greater possibilities to consider when undertaking such a project, and it provides an opportunity for the wholesaler to sell that solutions package."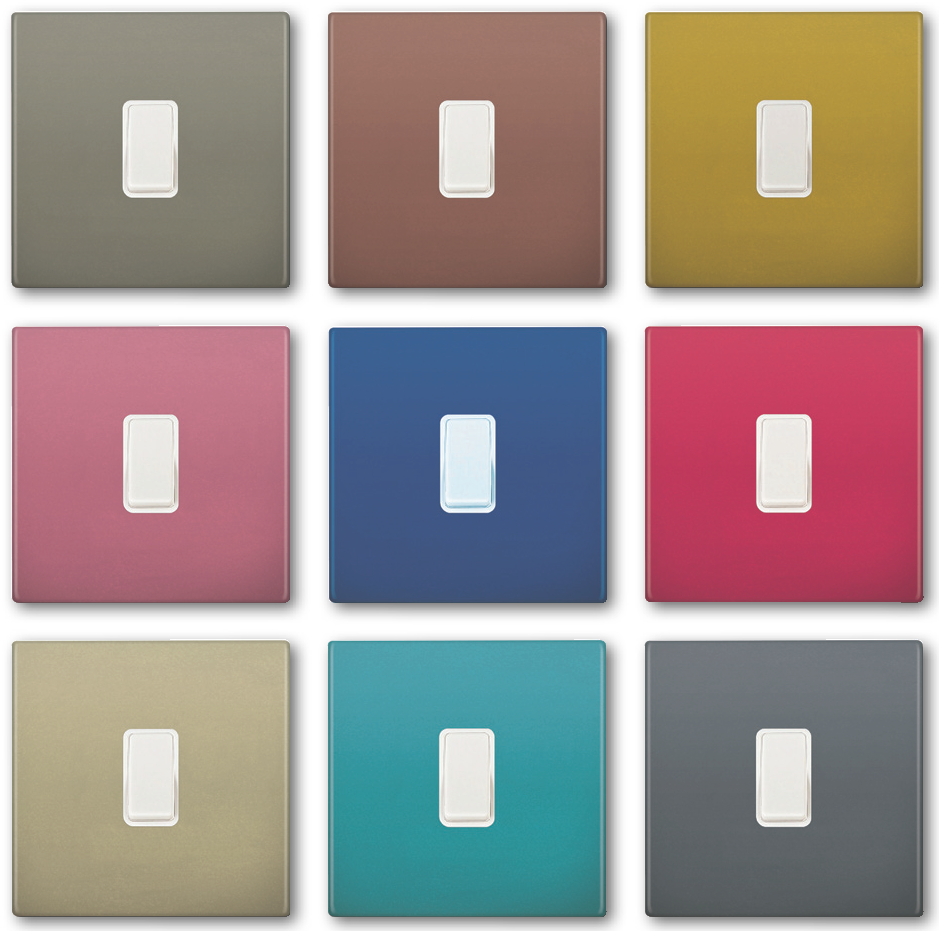 Blend in or stand out...
Whether a customer is opting for a bold or neutral wall in their new scheme, Hamilton provides the choice of the decorative wiring accessories blending in or standing out with its Paintable range. By simply providing an industry standard colour reference code to suit the décor, Hamilton will pre-paint the wiring accessories to be a perfect colour match with a flawless finish. This can be a colour that exactly matches the wall, or a contrasting colour that complements the room's soft furnishings. Delivered ready to fit, it is then simply a case of installation. Alternatively, the plates can be primed and ready to paint on site if that's preferred.
"We're delighted to be able to offer this really simple and straightforward solution to colour match wiring accessories," explains Williams. "There needn't be any fiddly painting on site – we take the hassle and pain out of this desirable finish by painting the accessories at our HQ in Bristol and providing them all ready to go, as if they were an off-the-shelf solution."
Bespoke solutions and services...
As well as providing bespoke finishes, Hamilton's design team can support with tailormade plates to fulfil any design, finish or configuration brief. It offers the utmost in flexibility, supported by products and service of the highest quality.
"The Hamilton team is happy to work directly with the wholesaler and end customer to develop a production specification that meets the needs of a project," assures Williams. "We pride ourselves on going the extra mile to provide the perfect solution for our clients."
Hotel Indigo Cardiff is one of Hamilton's satisfied customers, which now features plates with a European SCHUKO socket alongside a dual USB 2-gang switched socket. This service is particularly popular within the hotel sector to ensure guests receive the level of service they expect from their stay, with Hotel Indigo Cardiff's plates designed to be more welcoming to European guests.
"Whether it's a refresh or refurbishment, wiring accessories can help transform the look, feel and functionality of a space. Sometimes overlooked, wholesalers now have the chance to capitalise on these refurbishment projects and offer fitting solutions," adds Williams.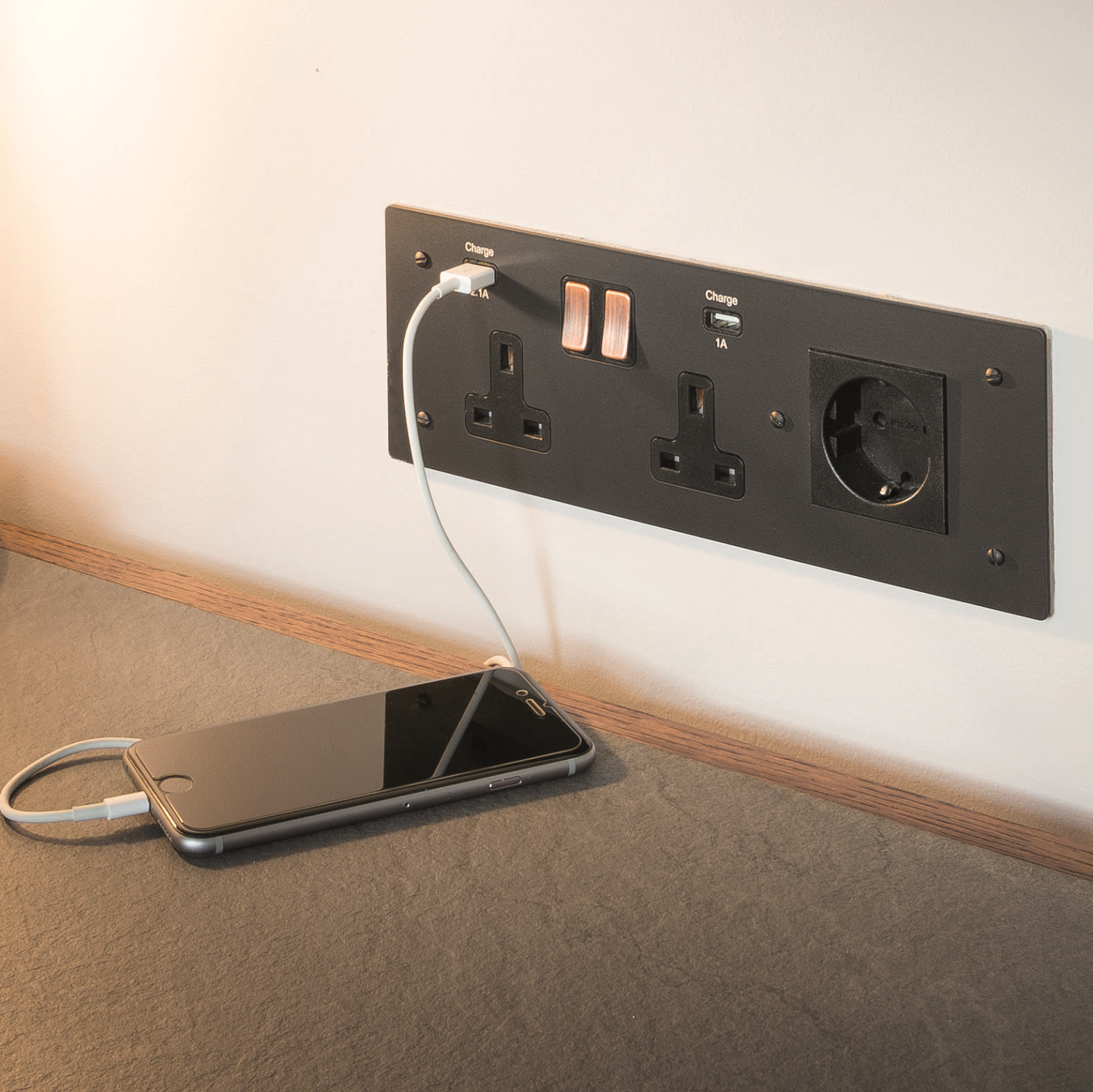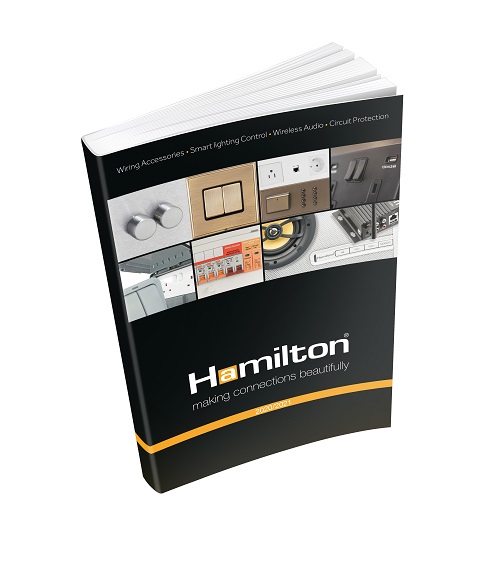 Support you can rely on...
In response to the COVID-19 pandemic, Hamilton has restructured its sales force to provide the best possible service that's befitting of new working practices and requirements. For those wishing to discuss bespoke services, or any of Hamilton's products, the sales team is a call or videoconference away, and are happy to arrange in-branch visits and comply with social distancing procedures and protocols.
"It has been a tough time for the industry, but there are opportunities out there and at Hamilton we are doing all that we can to support wholesalers to capitalise on these. We're continuing to offer our high-quality products and services, accompanied with long fit-and-forget guarantees, and if there is any extra support that we can provide, we encourage wholesalers to get in touch," assures Williams.
To take a closer look at Hamilton's full range of products, view the 2020/21 flip-book catalogue online here: http://hamilton-catalogue.co.uk/
The catalogue will be delivered to Hamilton wholesalers as soon as the current social distancing restrictions allow, and is also available from Hamilton direct upon request. To order your copy or request support from Hamilton's sales team please email: [email protected].