H&H Electrical Contractors serves Perception CFX at The Waterside Inn, Bray
H&H Electrical Contractors serves Perception CFX at The Waterside Inn, Bray
Perception CFX blends discreetly with the décor.
Under the leadership of Chef Patron Alain Roux, The Waterside Inn in Bray, Berkshire, offers guests an incredible dining experience in the setting of a luxury tranquil retreat. It recently refurbished four of its unique guest rooms with en-suite bathrooms, all of which have their own distinct character, inspired by the Thameside setting. The restaurant's in-house designer Laura Roux challenged Maidenhead-based H&H Electrical Contractors to find and fit high-quality wiring accessories that would allow each room's décor to be the centre of attention, while still creating consistency throughout the refurbishment.
A frequent specifier and installer of Hamilton's wiring solutions, Stephen Hogg of H&H Electrical Contractors was confident in the British business' ability to provide products to meet the brief. Hamilton's Perception CFX, a high-quality transparent design with concealed fixings, was chosen for the guest rooms. With snap-on clear front plates in a minimalist design, the solution allows for a section of the wallpaper design to be inserted so the plate discreetly blends with the interior décor. With ornate mural or statement wallpapers in each of the rooms, Hamilton's Perception CFX Toggle switch plates enhance rather than detract from the impact of the décor.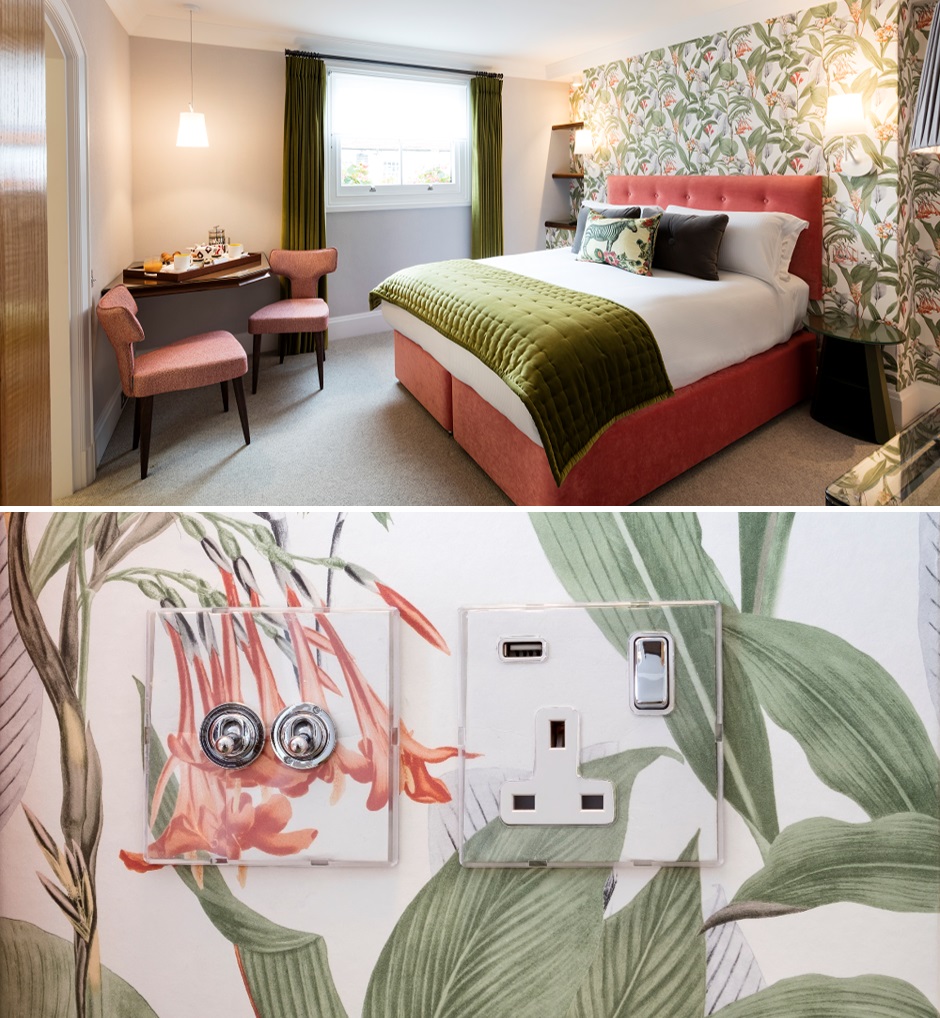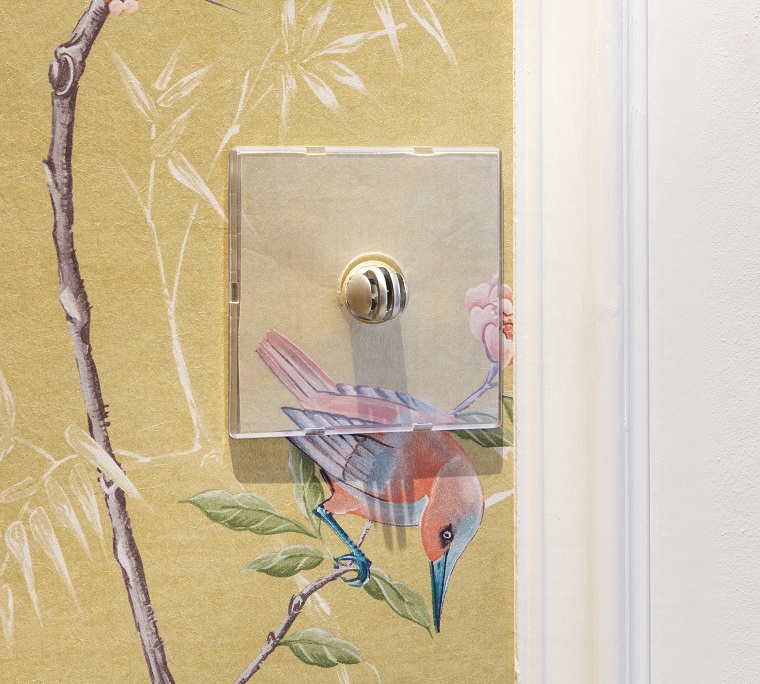 To meet the functional requirements of The Waterside Inn's high-end guest experience, Hamilton produced eight bespoke Perception CFX plates with single sockets and USB charging that were installed at either bedside in all four rooms.
They also created 'blank' Perception CFX plates to be easily adapted on-site to accommodate third-party temperature control sensors for the room's heating. Hamilton's in-house manufacturing capabilities at its Bristol facility means that it's agile enough to support such low volume bespoke demands.
Perception CFX has been complemented with accent switches and sockets in Hamilton's Sheer CFX design in Bright Chrome. The chrome finish matches seamlessly with other metalwork, including the Samuel Heath door furniture and the chrome fixtures and fittings in the en-suite bathrooms, giving each a fresh and contemporary look.
Having selected Hamilton as a supplier, Stephen Hogg of H&H Electrical Contractors is pleased with the finished result: "The Waterside Inn is a stunning property, with every little detail considered throughout its restaurant and guestroom accommodation. For me, Hamilton was the natural partner for the decorative wiring accessories. It has provided outstanding support on numerous projects, and its products always deliver in terms of quality, functionality, style and ease of installation. The service is second-to-none, and Hamilton demonstrated this yet again by producing bespoke plates to meet with and exceed the requirements of The Waterside Inn."
Delighted with the high-quality products and service, the Waterside Inn's Facilities manager, Shane Spiers, adds: "Our experience of working with H&H Electrical Contractors and Hamilton has been very positive. In particular, we appreciate the professionalism of our representative and the support we received. Service was proactive and our client contact was determined to secure the products we wanted at short notice and at a good price. We are delighted with the superb durability and quality of the products and they look fantastic in our rooms. We would not hesitate to recommend H&H Electrical Contractors or Hamilton products."

The final finish received praise from a design perspective too, with in-house designer Laura Roux thrilled with the finished result: "We are delighted with our choice of Hamilton sockets and switches. Their sleek, contemporary lines harmonise with each room's design rather than obscuring or clashing with them. Importantly, the sockets are also easy to keep spotlessly clean with their light reflective qualities adding a new dimension."
To find out more about Hamilton's Perception CFX clear plates, click here!