Hartland G2 - Home is where the Hartland is.
Hartland G2 - Home is where the Hartland is.

'Fashions fade, style is eternal' and that is so true when choosing not only the location but the brand of accessories for your client. One way I used to help my clients choose their accessories and best locations to showcase them, was to keep a couple of samples in the back of my vehicle. I'd go and collect the accessories out of my van, sit them on the kitchen worktop, (that's the accessories, not the client!) and let them imagine how their new kitchen was going to look. Very often by the next morning they were convinced, and orders could then be taken.
Today the stakes are so much higher because so many clients just want that minimalistic look in their kitchen, which often excludes seeing our electrical accessories on display – banishing them to the back of a dark cupboard. So, I ask you fellow sparkies, if our clients can't see our masterful work (as most of it is hidden behind plaster board or under flooring anyway) how are they going to really appreciate what we do?
One way is by fitting accessories that they WANT to see and show-off and to this end Hamilton has definitely risen to this challenge with its new Hartland G2 screwless range.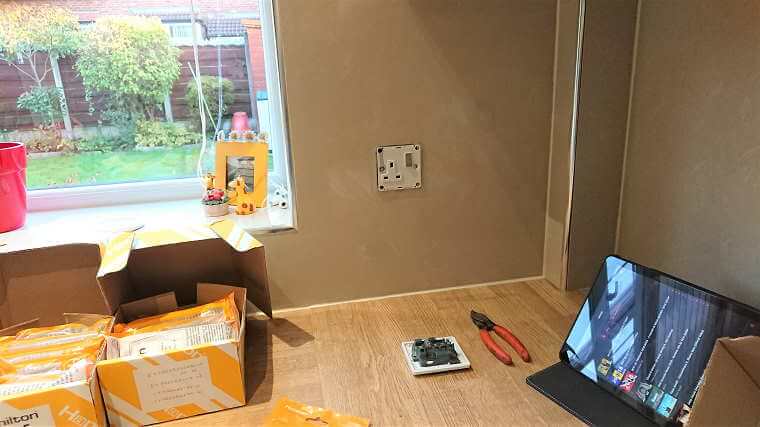 What's in the box?...
After receiving my package of accessories my interest was piqued immediately as the cardboard box in which they arrived didn't just open up by lifting the top flap – oh no, this box opened up by removing the two side flaps simultaneously and then lifting the lid to reveal the satin stainless steel sockets and switches inside.
Hamilton describes them as 'quality accessories on a stylish slim plate', and slim they certainly are. The G2 range comes in a number of finishes, so be sure to check them all out to maximise the options available to you and your client base.
The cover plate is removed by inserting a small terminal screwdriver in the two slots at the bottom, and the plate simply slips off. To replace it, you just place over the socket frame and push the four corners – it's that easy. On closer examination I could see that the screwless plate was secured by four spot-welded metal clips. The sockets each had a plastic profile which stylishly clipped itself to the socket frame. This means that when you second fix these sockets they'll sit snuggly on the wall. No gaps, no shadowing, no bowing, just pure style.
The kitchen that I chose to showcase Hamilton's G2 range already had a well-known brand of accessories installed, so the big question was whether my client would want the upgrade.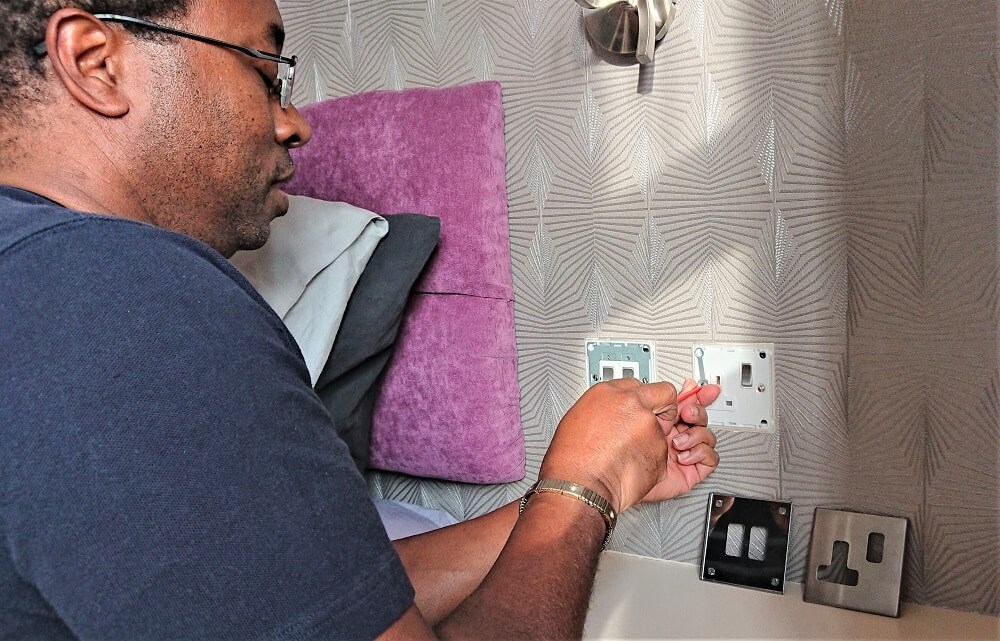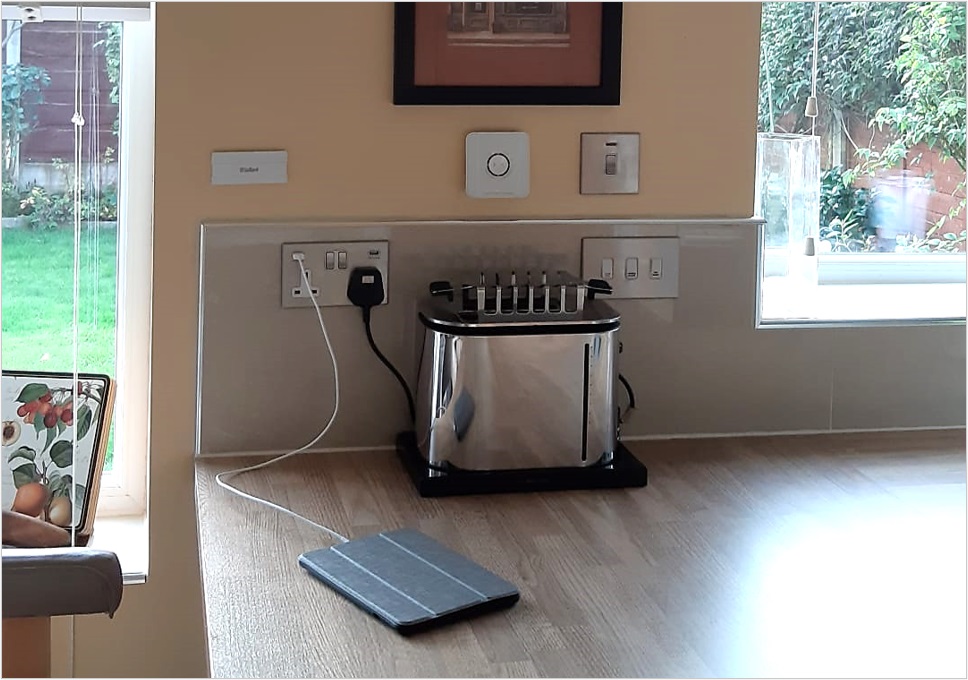 As I had no previous samples of the Hartland G2 range I arranged the order and placed them down on the worktop counter. I then let my client get on with their work while I began fitting the accessories. As it was just a faceplate change, it didn't take long to carry out, but in no time the kitchen was transformed from a standard kitchen to a bespoke kitchen. One of my client's original requests was that they were not keen on have many accessories on display, so I opted for the 20A grid plate method to control all the different kitchen appliances and central heating. When I explained my requirements to Hamilton the company looked at the brief and provided accessories for the kitchen and master bedroom.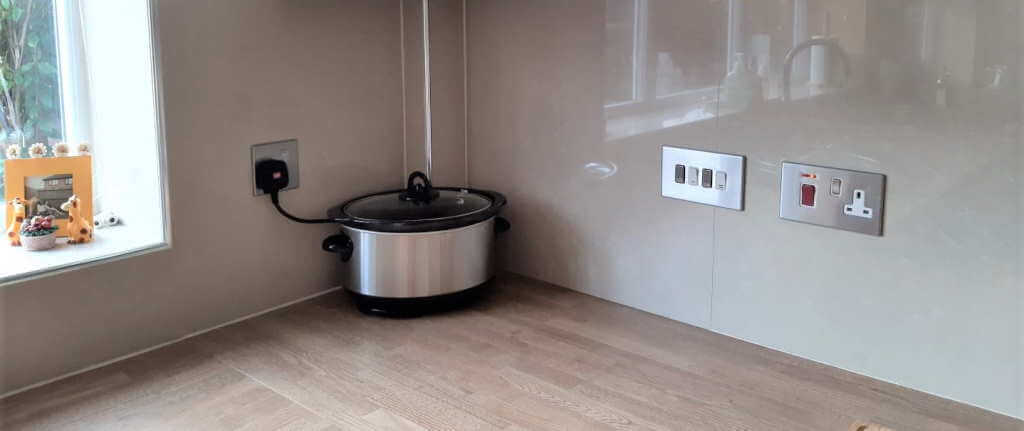 One nice element here is that Hamilton can provide bespoke labelled switches, which is particularly useful for kitchen installations where the ability to indicate switch usage in this domain (i.e. control of appliances), can have a significant impact on the selection of wiring accessories. I requested switches that were labelled up as: Fridge/Freezer, Boiler, Washing Machine, Tumble Dryer, Cooker Hood, and Dishwasher. On completion my client was fully satisfied.
The biggest selling feature of the Hartland G2 range of accessories is that they have a screwless face plate which, in my view, improved the styling tremendously. The switches on the accessories when operated have a clear 'click', which the client said was slightly more noticeable than on the previously fitted accessories, but not so audible to be of a major concern. All the socket outlets had double poled switching, so excellent when complete isolation is required.
The other feature I really like is that if you need to decorate a room the screwless plate-switch covers can be removed and replaced after the painting has been finished, thus saving you the time required to take the accessories off, only to have to put them all back on again.
This can be very frustrating, especially as clients rarely want to pay you more for your extra work.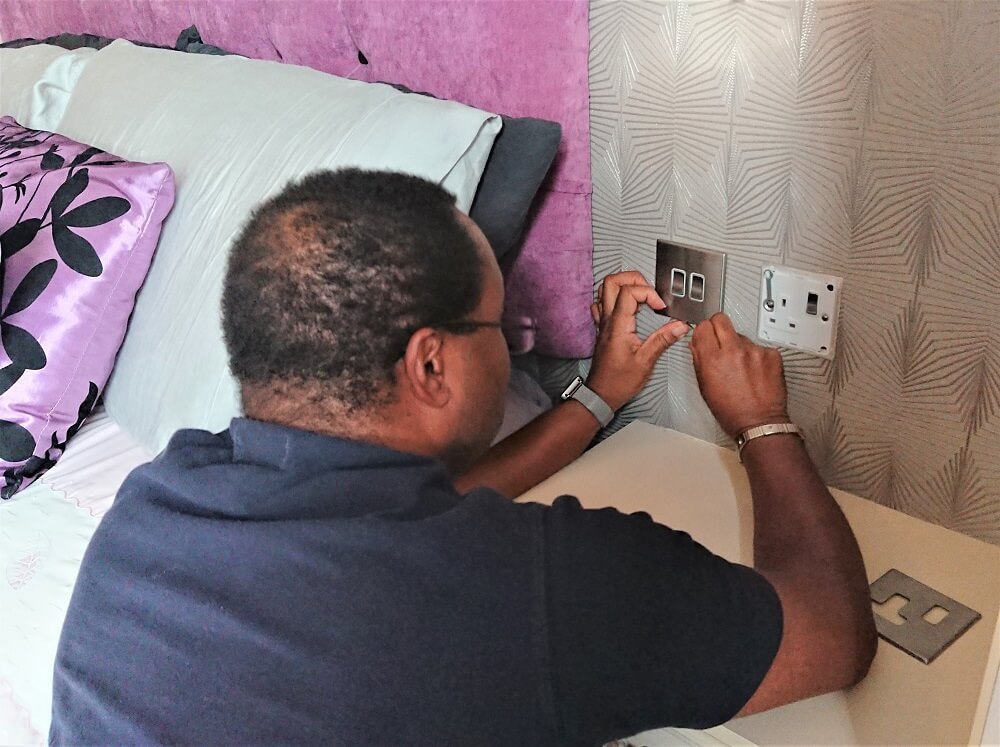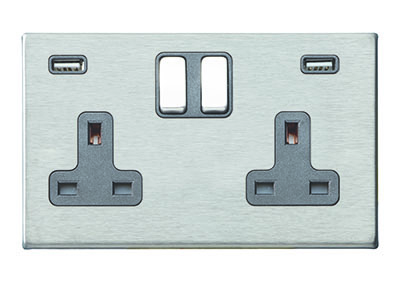 Hartland's G2 double sockets are also available equipped with two 2.4A USB outlets for charging tablets and phones alike. For this project two were ordered – one in the kitchen and one in the master bedroom. The USB double sockets were slightly deeper than the standard double socket outlets so, in my opinion, they would benefit from being installed in a deeper back box so that dressing the connecting cables is not such of a tight squeeze.
Overall, the difference these Hartland accessories made to the whole feel of the project was enchanting. I'm confident that wherever you fit this range, your client is going to be pleased that they're not hidden in the back of a cupboard, behind some tins of beans or similar items.
Because the range comes with an impressive 25-year warranty you could say that, once fitted, they'll likely see out your mortgage. My next job now will be to convince the client to get the rest of the house kitted out with the same accessories – a much easier task than when I first started the job!